Veggie-Packed Chili with Cornbread
By Emma Roche
Serves: 6
Prep Time: 20 min
Cook Time: 50 min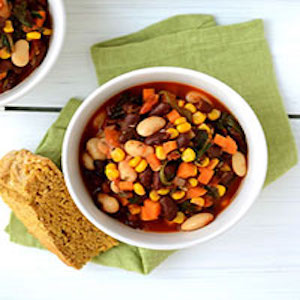 Ingredients
---
3 Tbsp
Brown or raw sugar
1 Tbsp
Flax seed (whole or ground)
1/2 Cup
Unsweetened applesauce
2/3 Cup
Vegetable broth or water
1 Tsp
Sweet (regular) paprika
2-15 Ounce Cans
Diced tomatoes
1/2 Tsp
Liquid smoke or smoked paprika
10-12 Ounces
Frozen spinach
2 1/2 Cups
Cooked kidney or pinto beans (or 2-15 oz. cans, drained and rinsed)
1/2 Cup
Vegetable broth or water
1/4 Tsp
Ground black pepper
Salt, to taste (optional)
Directions
---
1 Preheat the oven to 375F. Line a medium-sized (7-9 inch) cake tin or baking dish with baking paper.
2 Prepare the cornbread. Combine the cornmeal, flour, baking powder, sugar and salt in a large mixing bowl, and stir to combine. In a separate bowl, combine the flaxseed, water, non-dairy milk and applesauce, and whisk to combine. Add the wet ingredients to the dry, and mix gently with a fork until just combined. Be careful not to over mix the batter as this can result in a tough cornbread. Pour batter into the lined tin, and bake for 25 minutes until firm.
3 While the cornbread bakes, make the chili. Combine the onion, garlic, carrots, and 2/3 cup of vegetable broth in a large pot. Saute over a high heat for 5-6 minutes until the onions are soft. Reduce heat to medium, and add the chili powder, cumin,and sweet paprika. Cook, while stirring, for 1-2 minutes until the spices become fragrant. Add a little more water if necessary to prevent sticking.
4 Add all remaining 'chili' ingredients, except for the salt, and stir to combine. Cover the pot with a lid, and leave to simmer for 20 minutes.
5 Once the cornbread is done, remove it from the oven. Leave to cool for 10 minutes before turning out on a wire rack, and slicing into 6 even pieces.
6 When the chili has finished cooking, remove it from the heat. Serve immediately,with a piece of cornbread on the side.
7 You can season your chili with salt and/or hot sauce to taste, if desired. It is best to do this at the table rather than during cooking.
Print Recipe
Print With Images
Print Without Images
Learn why the nutrition behind our recipes is so important with the
12-Day McDougall Program
. Do you have questions about whether a change in diet can help your ailment? Learn more about our
consultations
.