Fresh Fruit Cobbler
By Mary McDougall
Be sure to use sweet, ripe, seasonal fruit in this recipe. Peaches and nectarines are delicious. For a fresh strawberry pie, see hint below.
Serves: 8
Prep Time: 20 min
Cook Time: 45 min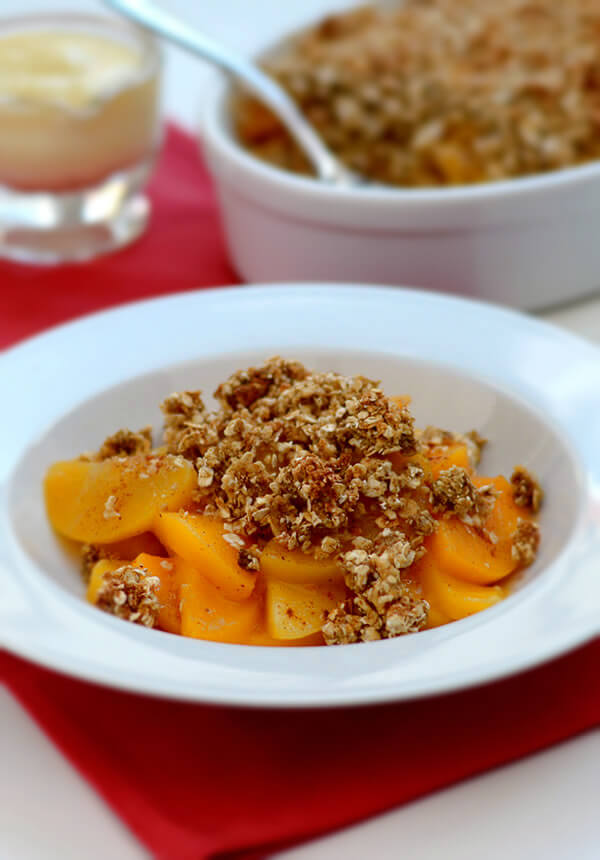 Ingredients
---
4 Cups
Fresh peaches or nectarines, sliced
1/3 Cup
Apricot preserves
1/2 Cup
Quick cooking oats
Directions
---
1 Preheat oven to 375 degrees.
2 Place the sliced peaches in a bowl. Combine the preserves, lemon juice and nutmeg together in another bowl. Spoon over the peaches and mix gently. Sprinkle the flour on the top and then mix again. Place in a 9 inch pie plate. Bake for 30 minutes.
3 Place the oats and cornmeal in a bowl. Combine maple syrup and vanilla and pour over the oat mixture. Mix well.
4 Remove the cobbler from the oven and reduce heat to 350 degrees. Crumble the oat mixture over the pie filling and return to oven. Bake for an additional 15 minutes. Let rest for 15 minutes before serving. Scoop the cobbler out with a large spoon and serve with vanilla non-dairy ice cream for a special treat. May be served warm or cold.
Hint: For a fresh strawberry pie, substitute sliced fresh strawberries for the peaches and strawberry preserves for the apricot preserves. Reduce the initial baking time by 10 minutes.
Print Recipe
Print With Images
Print Without Images
Learn why the nutrition behind our recipes is so important with the
12-Day McDougall Program
. Do you have questions about whether a change in diet can help your ailment? Learn more about our
consultations
.