Berry Sorbet
By Mary McDougall
Serves: 8
Prep Time: 5 min
Cook Time: 0 min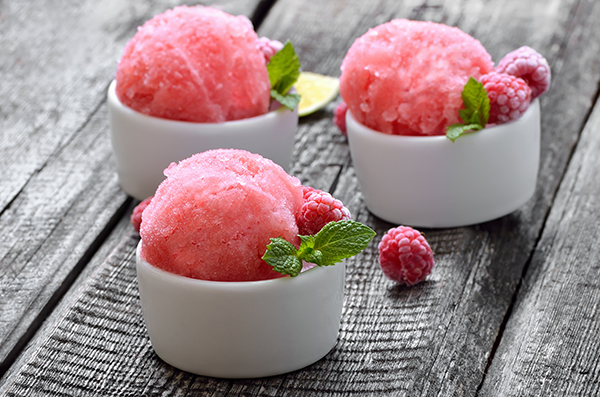 Ingredients
---
4 Cups
Frozen raspberries or strawberries
Directions
---
1 Place the frozen berries in a bowl on the counter and allow to partially thaw. Do not drain. Place berries in a blender or food processor and process until smooth. Add remaining ingredients and process again. Pour into a bowl. Cover and freeze until slushy, about 3 hours. Beat with an electric mixer until smooth. Cover and return to freezer. Freeze until firm, several more hours or overnight.
2 Remove from freezer about 10 minutes before serving.
Hint: To make this with sugar instead of honey, use about 1 cup of sugar and dissolve in 1 1/2 cups of boiling water in a saucepan. Remove from heat and cool completely. Try this with fresh melon of any kind or berries. Use about 1/2 cup of orange juice instead of the lemon juice.
3 Non-dairy milk may be substituted for most of the water for a creamy dessert.
Print Recipe
Print With Images
Print Without Images
Learn why the nutrition behind our recipes is so important with the
12-Day McDougall Program
. Do you have questions about whether a change in diet can help your ailment? Learn more about our
consultations
.