Dijon Mushroom Potatoes
By Mary McDougall
From the cookbook The McDougall Program for Maximum Weight Loss.
Serves: 4
Prep Time: 15 min
Cook Time: 60 min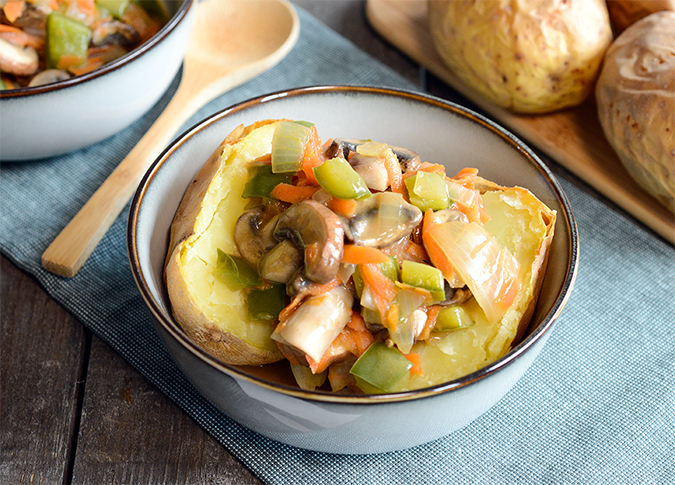 Ingredients
---
1/2 Pound
Fresh mushrooms, sliced
1
Green bell pepper, chopped
1 Tbsp
Soy sauce (optional)
Directions
---
1 Preheat the oven to 350 degrees F. Prick potatoes in several places with a fork. Bake for 1 hour or until tender, or microwave on high power for 15 minutes, turning once. Let the potatoes rest while preparing the sauce.
2 In a large saucepan, place 1/4 cup of the water with the onion, mushrooms, green pepper, and carrot. Cook, stirring, until the vegetables are tender, adding a little more water if necessary.
3 Meanwhile, combine remaining ingredients in a bowl. Stir into the vegetable mixture and cook, stirring, until thickened.
4 Serve the potatoes hot, passing the sauce separately.
Print Recipe
Print With Images
Print Without Images
Learn why the nutrition behind our recipes is so important with the
12-Day McDougall Program
. Do you have questions about whether a change in diet can help your ailment? Learn more about our
consultations
.