Buddha's Delight
By Mary McDougall
I enjoyed this dish at one of our local Chinese restaurants, and decided to come home and make it for myself. (I enjoyed my version even more than the restaurant version).
Serves: 8
Prep Time: 30 min
Cook Time: 25 min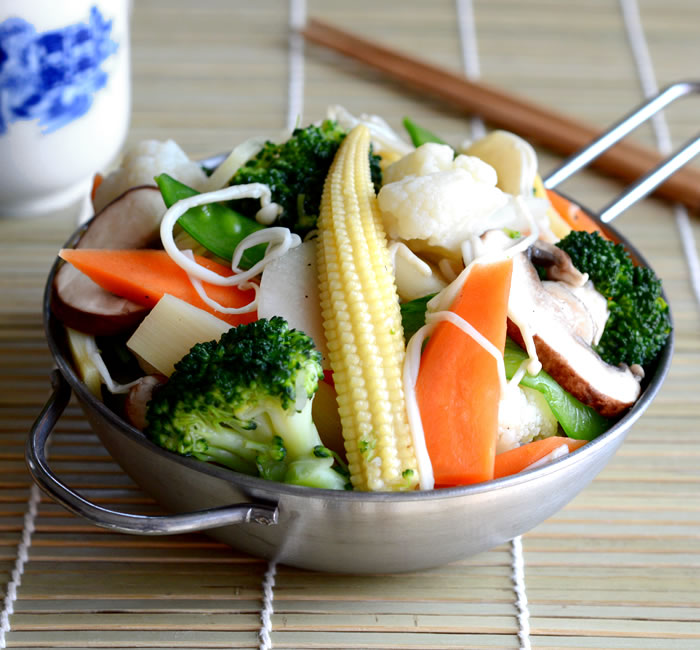 Ingredients
---
4 Cups
Broccoli and/or cauliflower flowerets
1 1/2 Cups
Carrots, sliced
1/2 Cup
Green onions, sliced
2 Cups
Bok choy, sliced thinly
1/2 Cup
Bamboo shoots, sliced
1/2 Cup
Sliced water chestnuts
1/2 Cup
Whole straw mushrooms (canned)
1 Cup
Whole baby corn (canned)
2 Tbsp
Sherry (or apple juice)
4 Tbsp (or To Taste)
Soy sauce (optional)
Directions
---
1 Prepare vegetables as directed and set aside separately. Combine sauce ingredients in a separate bowl and set aside.
2 In a wok or a large saucepan, place about 1/2 cup water and a dash or two of soy sauce. Heat until it boils, then add broccoli, carrots and green onions. Cook and stir for about 10 minutes. Add mushrooms, bok choy and snow peas. Cook and stir for 5 minutes. Add bamboo shoots and water chestnuts. Cook and stir a few more minutes. Add sauce mixture to pan. Bring to a boil, stirring constantly. After mixture boils and thickens, stir in straw mushrooms and baby corn. Cook until heated thoroughly. Serve over brown rice.
HINT: Buddha's delight is a popular vegetarian dish in China. There are many variations but one thing they share in common is at least 10 different vegetables are used in the preparation. You may vary the vegetables used according to what you have available in your refrigerator and pantry.
Print Recipe
Print With Images
Print Without Images
Learn why the nutrition behind our recipes is so important with the
12-Day McDougall Program
. Do you have questions about whether a change in diet can help your ailment? Learn more about our
consultations
.