BBQ Pulled Jackfruit
Bu Carol Van Elderen
What is jackfruit? Jackfruit is a large, starchy, fibrous fruit that is sweet when it is ripe and is eaten as a dessert. When it is unripe it is used in savory dishes as a vegetable. It reminds me a lot of the giant fresh breadfruit that was available all over Hawaii when we lived there. You can find it in cans in most Asian markets. For this recipe, be sure to buy the kind packed in water or brine, not the sweetened variety. This recipe should be made in a crockpot because it needs a long time to simmer in order for the jackfruit to take on the barbecued flavor.

This is a very unique recipe inspired by a restaurant meal enjoyed by my sister and brother-in-law in Grand Rapids, Michigan. They ordered a Barbecued Pulled Jackfruit sandwich just because it looked interesting, and enjoyed it so much that they went home and immediately looked for recipes online so they could enjoy it at home. There are actually quite a few recipes for barbecued jackfruit online and even more for other savory jackfruit dishes. This is my sister, Carol's, and my version of Barbecued Pulled Jackfruit.
Serves: 8
Prep Time: 10 min
Cook Time: 480 min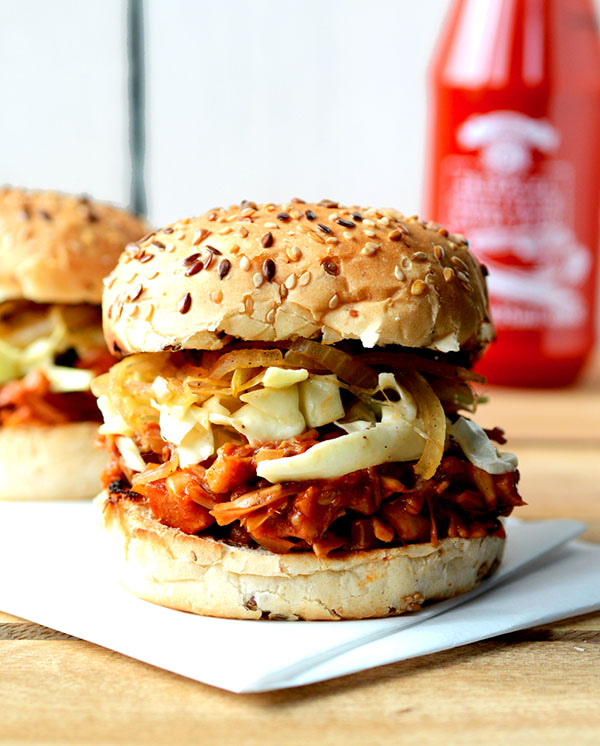 Ingredients
---
20 Ounce Can
Young green jackfruit in brine or water
1-2 Cloves
Garlic, crushed
1 Cup (approximately)
Barbecue sauce
Directions
---
1 Drain the jackfruit and rinse several times with water. Let rest in the strainer to remove as much water as possible while sauteeing the onion and garlic.
2 Saute the onion and garlic in a non-stick pan until softened slightly, about 5 minutes.
3 Place the jackfruit in the bottom of a Crock-Pot (slow cooker), (it won't look like there is much of it, but as it breaks apart there will be plenty for 8 servings), spoon the onions and garlic over the top and add 1/2 cup of barbecue sauce and the water. Stir gently to mix well, cover and cook on high heat in the Crock-Pot for about 3 hours before stirring. After 3 hours stir gently and add about 1/4 cup more barbecue sauce. Cook for an additional hour on high.
4 Uncover and stir, breaking up the jackfruit as much as possible into strands. Reduce heat to low. Cover and continue to cook for another 3-4 hours, stirring and breaking up the jackfruit until it is all broken into strands. Add the remaining barbecue sauce occasionally, as necessary. The jackfruit will become softer and easier to break apart the longer it cooks. It should be very thick and stringy at the end of the cooking time. Serve on buns, topped with Coleslaw and Golden Sauteed Onions (recipes in Salads & Sides) and Sriracha hot sauce.
Hint: This is a fantastic barbecued sandwich just bursting with flavor. Choose any of your favorite fat-free barbecue sauces in this recipe, the flavor will be slightly different depending on which sauce you choose. The secret is in the long cooking time which gives the sauce plenty of time to meld into the jackfruit. This is a much healthier choice for a barbecued filling than either soy or gluten, with much more flavor.
Print Recipe
Print With Images
Print Without Images
Learn why the nutrition behind our recipes is so important with the
12-Day McDougall Program
. Do you have questions about whether a change in diet can help your ailment? Learn more about our
consultations
.