4-Bean Salad
By Cathy Fisher
In addition to beans, this salad contains corn, green peas, and red onion. The dressing is tangy and mildly spicy due to the cumin, garlic, and mustard. This is a colorful, hearty salad perfect for any of the three P's: potlucks, parties, and picnics
Serves: 8
Prep Time: 30 min
Cook Time: 5 min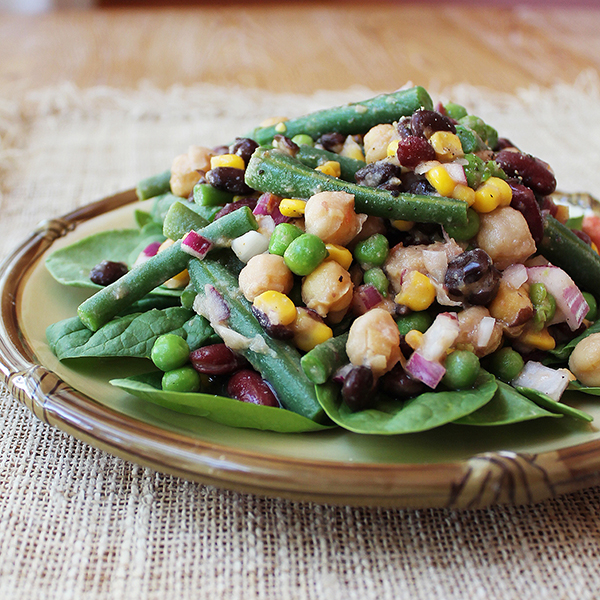 Ingredients
---
2 15 Ounce Cans
Cooked green beans, drained
3 Cups
Fresh cut into 1-inch pieces and boiled until tender
15 Ounce Can
Cooked black beans, drained and rinsed
15 Ounce Can
Cooked kidney beans, drained and rinsed
15 Ounce Can
Cooked garbanzo beans, drained and rinsed
1 1/2 Cups
Cooked green peas (rinse and thaw first if frozen)
1 1/2 Cups
Raw or cooked corn kernels (rinse and thaw first if frozen)
1/2
Medium onion, finely chopped
1
Medium tomato, chopped (including seeds)
1/3 Cup
Apple cider vinegar
1
Large clove garlic, finely chopped
Directions
---
1 Add all of the salad ingredients to a large bowl.
2 Add all of the dressing ingredients to a blender, and blend until smooth. Stir the dressing into the bowl of salad ingredients.
Notes: A little finely chopped fresh parsley or basil is also nice in this salad. If you're feeling decadent, add 1/2 to 1 avocado, chopped.
Print Recipe
Print With Images
Print Without Images
Learn why the nutrition behind our recipes is so important with the
12-Day McDougall Program
. Do you have questions about whether a change in diet can help your ailment? Learn more about our
consultations
.