Quinoa Garden Salad
By Mary McDougall
Serves: 6-8
Prep Time: 15 min
Cook Time: 15 min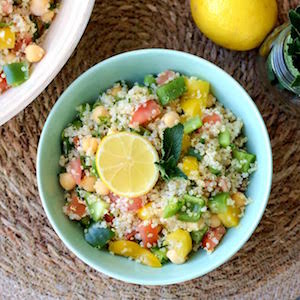 Ingredients
---
1 Cup
Quinoa, well rinsed
1
Red bell pepper, chopped
1
Green bell pepper, chopped
1/2
Yellow bell pepper, chopped
1 Bunch
Green onions, chopped
14.5 Ounce Can
Garbanzo beans, drained and rinsed
1/2 Cup
Fresh parsley, chopped
1/4 Cup
Fresh mint, chopped
Directions
---
1 Place the water and quinoa in a saucepan, bring to a boil, reduce heat, cover and cook for 15 minutes, until water is absorbed. Remove from heat and set aside.
2 Meanwhile, combine the vegetables, beans, parsley and mint. Add the cooked quinoa and mix well. Add the remaining ingredients and toss well to mix. Cover and refrigerate for at least 2 hours before serving.
Print Recipe
Print With Images
Print Without Images
Learn why the nutrition behind our recipes is so important with the
12-Day McDougall Program
. Do you have questions about whether a change in diet can help your ailment? Learn more about our
consultations
.