Yammy Kale
By Mary McDougall
We grew several varieties of kale in our garden last year and they all kept producing over the winter months. My favorite is the Lacinato blue kale because it is just a bit more tender than the other varieties.
Serves: 4
Prep Time: 15 min
Cook Time: 20 min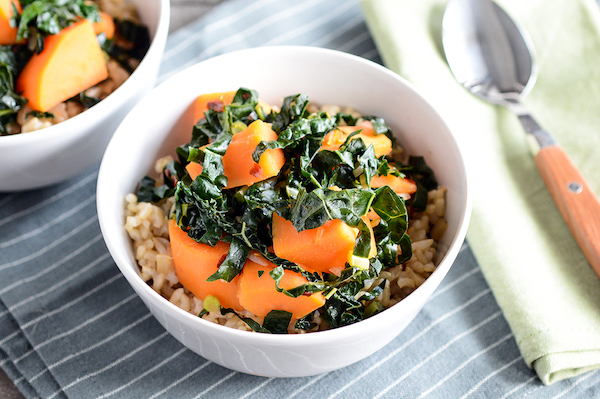 Ingredients
---
2
Garnet yams, peeled and cut into chunks
1 1/2 Cups
Water or vegetable broth
3 Cups
Lacinato kale, thinly sliced
1 Tbsp
Vegan Worcestershire sauce
1/2-1 Tsp
Sambal Oelek chili paste
Directions
---
1 Place the yams and water or broth in a large saute pan. Cover, bring to a boil, reduce heat and cook until yams are just barely tender, about 5 to 10 minutes depending on the size of the chunks. Add the onion and garlic and continue to cook over medium low heat until liquid has been reduced by half. Add the kale, Worcestershire sauce and chili paste. Continue to cook until kale is tender, stirring occasionally. Stir in the lemon juice just before serving. Serve over brown rice or other whole grains.
Hint: This may also be made with other varieties of kale, just remove the hard stem before slicing the kale. Garnet yams are the bright orange-fleshed sweet potatoes with reddish colored skins.
Print Recipe
Print With Images
Print Without Images
Learn why the nutrition behind our recipes is so important with the
12-Day McDougall Program
. Do you have questions about whether a change in diet can help your ailment? Learn more about our
consultations
.