Sweet Potato Tostadas
By Katie Mae, MS
Serves: 6
Prep Time: 5 min
Cook Time: 15 min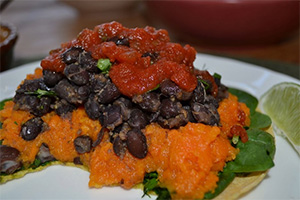 Ingredients
---
3
Medium cooked sweet potatoes, mashed
1 1/2 Cups
Cooked black beans (or 1 can drained and rinsed)
6
Corn tortillas, oil-free
Directions
---
1 Preheat oven to 350F. Set freshly cooked and mashed sweet potatoes aside. If the sweet potatoes were cooked previously and are cool, warm them up on the stove top.
2 In a medium saucepan over medium low heat, add black beans, water cumin, coriander, garlic granules and chili powder. Heat the beans for 5-10 minutes, stirring occasionally.
3 Lay tortillas in a single layer on a baking tray. Put tortillas in the oven for 3-5 minutes, depending on how soft you want them to be. Remove from oven and lay on a serving plate.
4 To make a tostada, start with 1 cooked tortilla. First add a thin layer of spinach, about 1/4 cup. Then scoop a little of the sweet potatoes onto the spinach. Carefully spread the sweet potatoes across the tortilla. Add about 1/4 cup of the black beans on top of the sweet potatoes. Add your favorite toppings, such as Strawberry Mango Salsa (recipe in Dips & Spreads) or a delicious guacamole.
Print Recipe
Print With Images
Print Without Images
Learn why the nutrition behind our recipes is so important with the
12-Day McDougall Program
. Do you have questions about whether a change in diet can help your ailment? Learn more about our
consultations
.