Spicy Tofu Tacos
By Mary McDougall
Serves: 6-8
Prep Time: 30 min
Cook Time: 10 min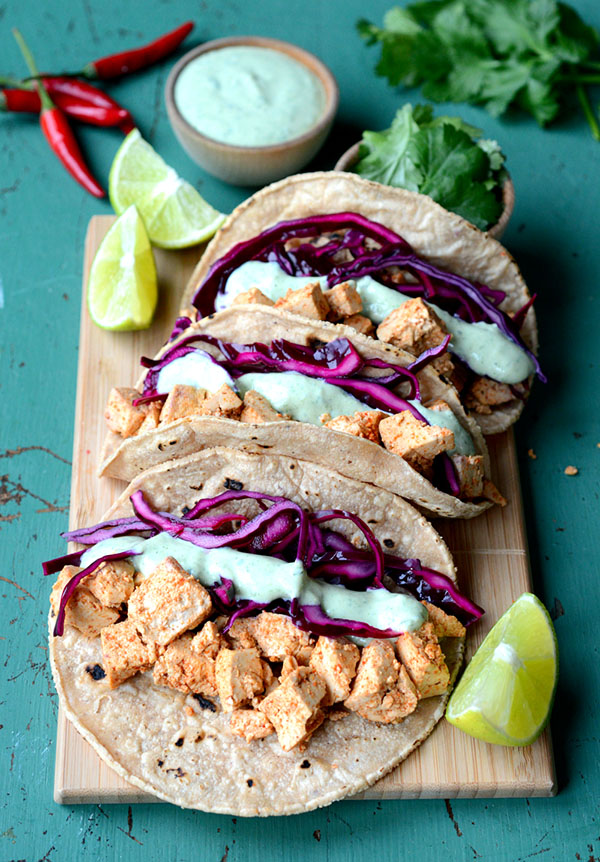 Ingredients
---
24 Ounces
Firm tofu (not silken)
3 Tbsp
Seasoned rice vinegar
Directions
---
1 Spicy Tofu: Drain tofu in a colander and press out excess water with paper towels. Cut into 1/2 inch cubes. Combine soy sauce, lime juice, chili powder, cumin, garlic powder, and cayenne in a large bowl. Add tofu and mix gently. Let stand for 10 minutes, stirring occasionally. Place a large non-stick frying pan on medium heat. Add tofu and cook turning occasionally for about 10 minutes. Set aside.
2 Cabbage: Combine all ingredients in a bowl and set aside.
3 Corn Tortillas: Soften individually on a dry non-stick griddle, or wrap in a towel and heat in the microwave.
4 To assemble: Take a soft corn tortilla, spoon tofu and cabbage down the center, add a bit of aioli and some hot sauce, if desired, roll up and eat with your fingers. Serve with Cilantro-Garlic Aioli (recipe below).
Hints: The tofu that I use is Wildwood Organics Super Firm. It is very important to have super firm tofu in this recipe. If you can't get the super firm variety of tofu, place firm tofu between several layers of tea towels and press down with weights for several hours to remove excess moisture.
5 Cilantro-Garlic Aioli Preparation Time: 5 minutes Servings: Makes 1 1/2 cups
6 1 1/2 cups tofu sour cream 2 large cloves garlic, peeled and coarsely chopped juice of 1 lime 1/3 cup cilantro leaves dash salt
7 Place all ingredients in a food processor and process until smooth. This makes a wonderful accompaniment to many Mexican dishes.
Hint: Will keep in refrigerator for about 2 weeks. Tofu sour cream is made by placing one 12.3 ounce package of soft silken tofu in a food processor with 2 tablespoons lemon juice, 2 teaspoons sugar and a dash or two of salt and processing until smooth and creamy. Refrigerate overnight to allow flavors to blend completely for best results.
Print Recipe
Print With Images
Print Without Images
Learn why the nutrition behind our recipes is so important with the
12-Day McDougall Program
. Do you have questions about whether a change in diet can help your ailment? Learn more about our
consultations
.