Roasted Tomato Basil Soup
By Mary McDougall
This makes a large amount of soup. Part of this recipe could be frozen for an easy meal later and it is also fantastic served over pasta.
Serves: 8-10
Prep Time: 30 min
Cook Time: 100 min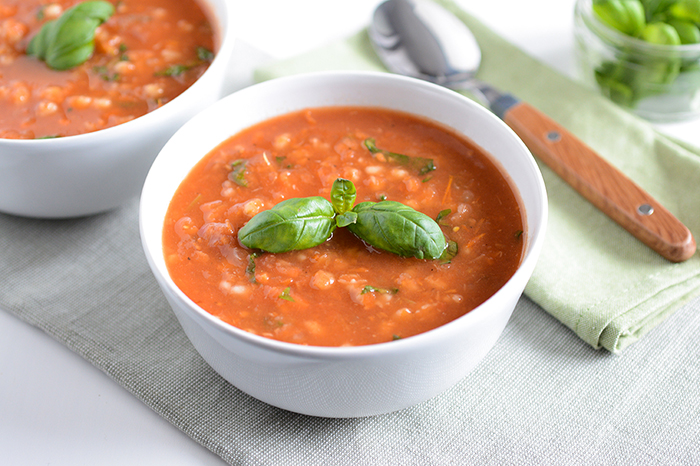 Ingredients
---
3 Pounds
Fresh plum tomatoes, cut in half
Several twists of freshly ground pepper
1/4 Tsp
Crushed red pepper flakes
2-15 Ounce Cans
Fire-roasted diced tomatoes
1 Cup Packed
Slivered fresh basil
1 Tsp
Low-sodium soy sauce (optional)
Directions
---
1 Preheat oven to 400 degrees.
2 Place the cut tomatoes in a flat baking dish, drizzle the vegetable broth over the tomatoes and sprinkle with the pepper and salt. Place in the oven and roast uncovered for 45 minutes. Remove from oven and allow to cool slightly.
3 Meanwhile, place the onion, celery and carrot in a large soup pot with the water. Cook, stirring frequently until vegetables have softened and the water has evaporated. Add the garlic and red pepper flakes and stir well to mix. Add the canned tomatoes and their juices, the vegetable broth and the roasted tomatoes and their juices. Mix well and bring to a boil. Reduce heat and simmer, covered, for about 30 minutes. Remove from heat and slowly and carefully blend slightly with an immersion blender. (See hints below.) Add the basil, barley and soy sauce. Stir to mix and cook over low heat for another 15 minutes to blend flavors well. Season with a bit more sea salt, if desired.
Hints: If you don't have plum tomatoes in your garden, just use any flavorful fresh tomatoes and cut into wedges before roasting. One half cup of uncooked barley cooked in 1 1/2 cups of water for 30-40 minutes yields about 1 3/4 cups of cooked barley. If you don't have an immersion blender, this may be slightly blended in a regular blender in small batches. Either way, be very careful, as the hot soup can spatter easily. You don't want the soup to be too smooth, a few chunks of tomatoes and vegetables should still be visible. The basil and barley are added to the soup after the blending process is completed.
Print Recipe
Print With Images
Print Without Images
Learn why the nutrition behind our recipes is so important with the
12-Day McDougall Program
. Do you have questions about whether a change in diet can help your ailment? Learn more about our
consultations
.