Palak Kichadi (Spinach Rice and Dal)
By Katie Mae
Katie Mae is a plant-based culinary coach and nutritionist on a mission to empower people in living brighter lives via delicious plant foods.
Serves: Makes 6 cups
Prep Time: 15 min
Cook Time: 30 min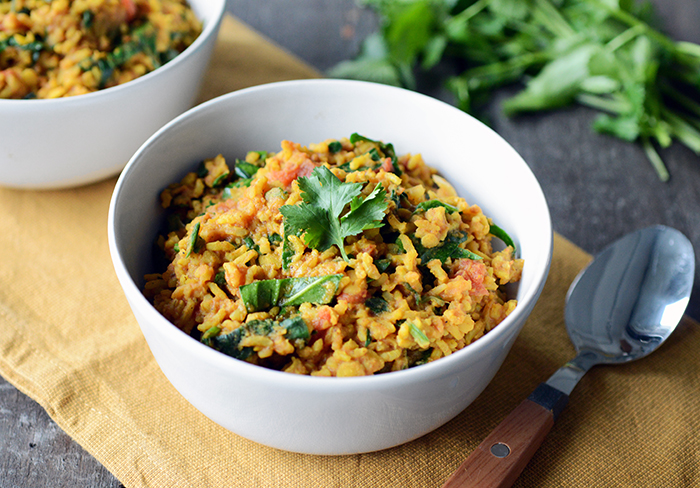 Ingredients
---
1 Cup
Chana daal or yellow split peas
12 Ounces
Yellow onion, diced
2-inch Piece
Fresh ginger, minced
5-6 Cups
Spinach, chopped
12 oz fresh or canned diced tomatoes
1/2 Cup
Fresh cilantro, diced
Directions
---
1 Soak the rice and dal for 10 minutes and then strain it. Alternatively, the rice and dal can be rinsed under running water until the water runs clear.
2 Add onion and jalapeno to a large saute pan over medium-high heat, OR an electric pressure cooker on the saute mode. Add the garlic, ginger, cumin, coriander, and turmeric. Dry-saute until the onions become translucent.
3 Stir in the tomato, rice, dal, and water.
4 With a saute pan, a lid should be added and the heat reduced to low. Let it simmer for 40 minutes, or until the rice is fully cooked. Add the spinach half-way through the cooking time. With a pressure cooker, lock the lid in place and set the timer to 20 minutes on the manual setting. The spinach can be added before locking the lid in place, but if you prefer the spinach to be minimally cooked, stir it in after the starches cook.
5 When the dish is finished cooking, stir in the cilantro and serve warm.
Print Recipe
Print With Images
Print Without Images
Learn why the nutrition behind our recipes is so important with the
12-Day McDougall Program
. Do you have questions about whether a change in diet can help your ailment? Learn more about our
consultations
.