Oatmeal-Raisin Cookies
By Cathy Fisher
These are your traditional oatmeal-raisin cookies, but without eggs, dairy, oil, salt, refined flour or sugar. Instead, this recipe uses oats, flax seeds, cashews, bananas and dates.
Serves: Makes 25-30 cookies
Prep Time: 30 min
Cook Time: 18 min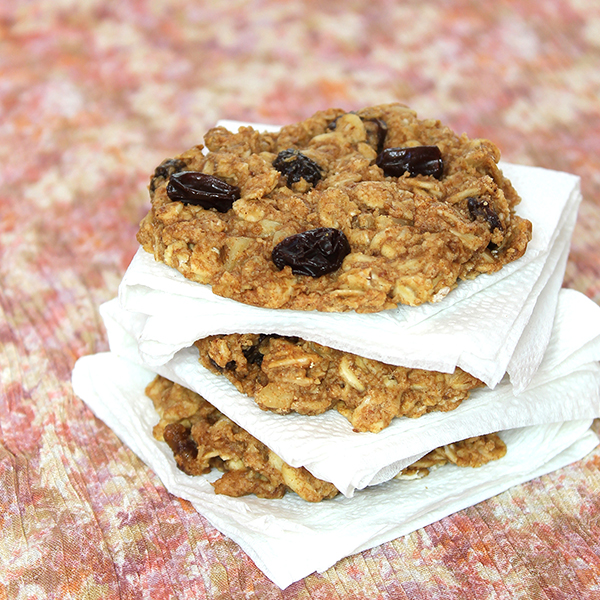 Ingredients
---
6
Pitted dates, preferably Medjool
1/2 Cup
Raw cashews or pecans
2 Cups
Rolled oats, ground into flour (see note below)
3 Tbsp
Flax seeds, ground
3/4 Cup
Roughly chopped walnuts (optional)
Directions
---
1 Preheat oven to 350. Line a baking sheet with parchment paper (or use a non-stick cookie sheet) and set aside. Place the pitted dates and cashews in a bowl with the 3/4 cup of water and soak for 30 minutes.
2 While the dates and nuts are soaking, combine all of the dry ingredients (whole oats, ground oats, flax, baking soda, baking powder, cinnamon and nutmeg) in a large bowl and mix thoroughly with a fork. In another bowl, combine wet ingredients (lemon juice, zest, banana and vanilla). Blend the soaked dates, cashews and their water in a high-speed blender until smooth; add this mixture to the bowl of wet ingredients, and combine. Add the bowl of wet ingredients to the bowl of dry, and mix thoroughly, adding in the raisins and walnuts last (add a little water as needed if dough is too dry).
3 Using a one-tablespoon measure, place a scoop of cookie dough on the baking sheet and press down gently a couple times with a fork. Bake for 15-18 minutes on the middle rack,until cookies are lightly browned on the bottom and around the edges. Remove from oven and let sit for 5 minutes before transferring to a cooling rack.
Notes: Regular, whole rolled oats work best (as opposed to quick or instant oats). A Vitamix or Tribest Personal Blender both work well to blend the nuts and dates, and grind oats into flour. If you've never used fresh nutmeg, this would be a great opportunity to pick some up in the bulk section of Whole Foods and try it. To zest lemons and nutmeg, use a fine grater, such as a Microplane. These cookies are not overly sweet; if you'd like to add more sweetness, add two more dates to the recipe.
Print Recipe
Print With Images
Print Without Images
Learn why the nutrition behind our recipes is so important with the
12-Day McDougall Program
. Do you have questions about whether a change in diet can help your ailment? Learn more about our
consultations
.