Jeff's Sweet Potato Curry Burger
By Jeff Novick
Serves: Makes 8-10 burgers
Prep Time: 30 min
Cook Time: 5 min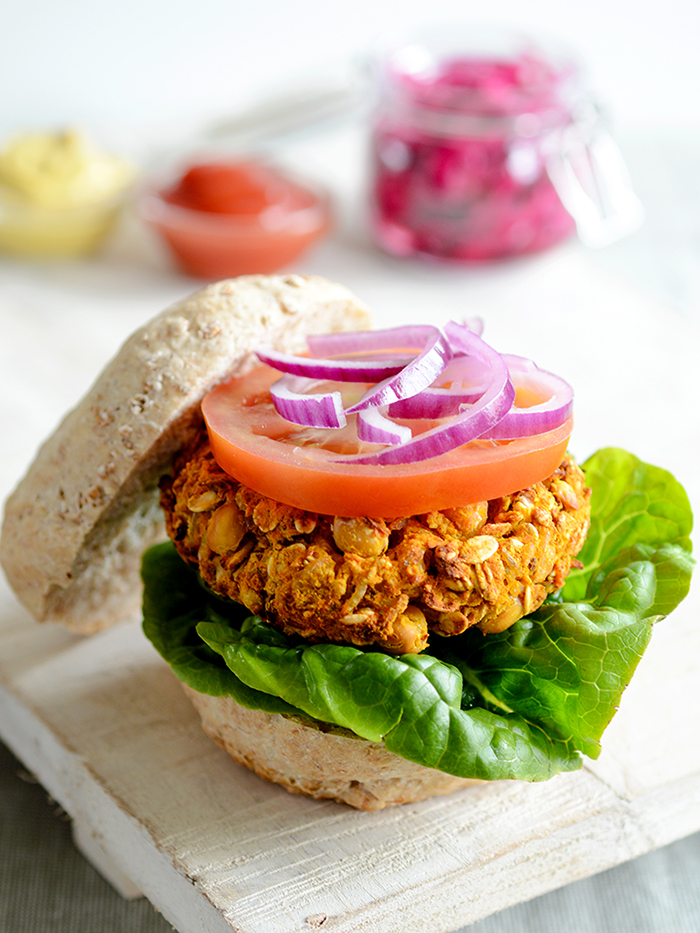 Ingredients
---
15 Ounce Can
Salt-free kidney beans, drained and rinsed (or 1 1/2 cups cooked)
15 Ounce Can
Salt-free chickpeas, drained and rinsed (or 1 1/2 cups cooked)
1 Cup
Rolled regular dry oats
1/2 Cup
Cooked brown rice
1/2 Cup
Cooked, peeled, and mashed sweet potato
1 1/2 Tbsp
Salt-free mild curry powder
8-10
Whole-grain buns Ezekiel brand
Directions
---
1 Drain and rinse the beans.
2 Put in a bowl and mash with a fork or potato masher. We want a rough mash.
3 Add oats, rice, sweet potato, salsa, curry, and any other spice of choice and mix well.
4 Divide mix into 8 or 10 equal pieces.
5 Roll each piece into a ball and then form into a patty.
6 Lay on plate and let the patties air dry in the refrigerator for about 10-20 minutes.
7 Grill or broil on a non-stick skillet at medium heat (or place under a broiler) until golden brown, about 3-5 minutes.
8 Serve with condiments of choice: mustard, ketchup, relish, tomato slices, red onion slices, spinach, romaine, or guacamole (optional).
Print Recipe
Print With Images
Print Without Images
Learn why the nutrition behind our recipes is so important with the
12-Day McDougall Program
. Do you have questions about whether a change in diet can help your ailment? Learn more about our
consultations
.