Jeff's Sweet Potato Curry Burger
By Jeff Novick
Serves: Makes 8-10 burgers
Prep Time: 30 min
Cook Time: 5 min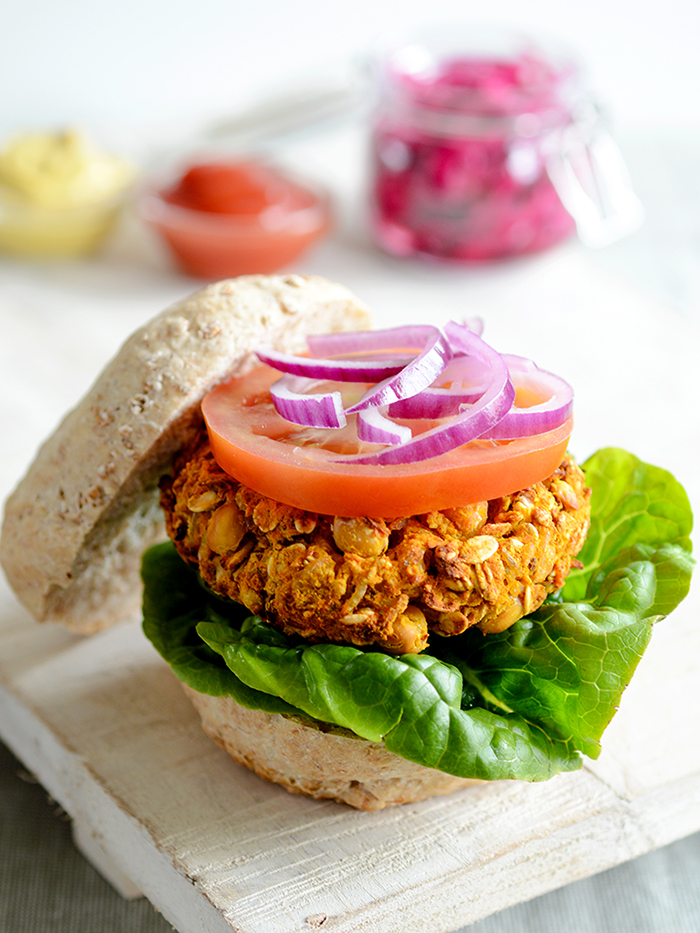 Ingredients
---
15 Ounce Can
Salt-free kidney beans, drained and rinsed (or 1 1/2 cups cooked)
15 Ounce Can
Salt-free chickpeas, drained and rinsed (or 1 1/2 cups cooked)
1 Cup
Rolled regular dry oats
1/2 Cup
Cooked brown rice
1/2 Cup
Cooked, peeled, and mashed sweet potato
1 1/2 Tbsp
Salt-free mild curry powder
8-10
Whole-grain buns Ezekiel brand
Directions
---
1 Drain and rinse the beans.
2 Put in a bowl and mash with a fork or potato masher. We want a rough mash.
3 Add oats, rice, sweet potato, salsa, curry, and any other spice of choice and mix well.
4 Divide mix into 8 or 10 equal pieces.
5 Roll each piece into a ball and then form into a patty.
6 Lay on plate and let the patties air dry in the refrigerator for about 10-20 minutes.
7 Grill or broil on a non-stick skillet at medium heat (or place under a broiler) until golden brown, about 3-5 minutes.
8 Serve with condiments of choice: mustard, ketchup, relish, tomato slices, red onion slices, spinach, romaine, or guacamole (optional).
Print Recipe
Print With Images
Print Without Images