Green Goddess Potato Salad
By Mary McDougall
I saw a recipe for a simple green potato salad in a magazine a couple of months ago and the photo was so appealing that I decided to try something similar, without the mayonnaise and sour cream, of course. I made this with only potatoes, but if you like other vegetables in your potato salads, feel free to add chopped vegetables of your choice.
Serves: 4-8
Prep Time: 15 min
Cook Time: 15 min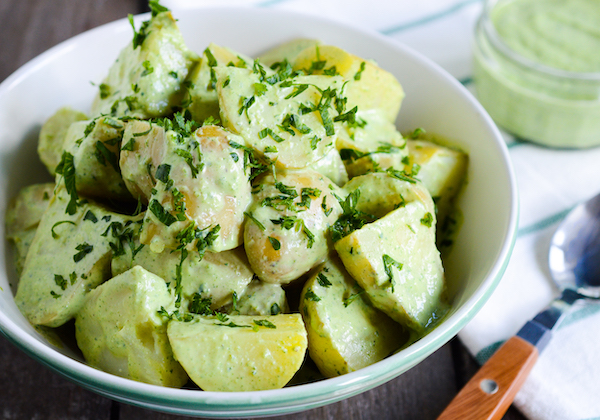 Ingredients
---
12.3 Ounce Package
Soft silken tofu
2 Tbsp
White wine vinegar
1 Bunch
Green onions, chopped
1 Cup
Fresh flat leaf parsley, chopped
Freshly ground black pepper
Directions
---
1 Potatoes: Scrub the potatoes but do not peel. Cut into approximately 1 inch chunks. Place in a pot with water to cover. Bring to a boil, reduce heat and cook for about 12 minutes until just tender. Drain. Allow to cool for 15 minutes.
2 Dressing: Place the tofu and water in a blender jar and process briefly. Add the remaining ingredients and process until very smooth and green. Set aside.
3 Salad: Place the cooled potatoes in a large bowl. Add other chopped vegetables if you wish at this time. Pour 1 1/2 cups of the dressing over the potatoes and mix gently. Cover and refrigerate at least 2 hours before serving.
Hints: Reserve the remaining dressing for use later as a dip for raw veggies or a topping for salad greens.
Print Recipe
Print With Images
Print Without Images
Learn why the nutrition behind our recipes is so important with the
12-Day McDougall Program
. Do you have questions about whether a change in diet can help your ailment? Learn more about our
consultations
.