Fried Rice Recipe
By Mary McDougall
This is a delicious way to use leftover brown rice. Pick any vegetables that are in season and reasonably priced at the market.
Serves: 6
Prep Time: 15 min
Cook Time: 15 min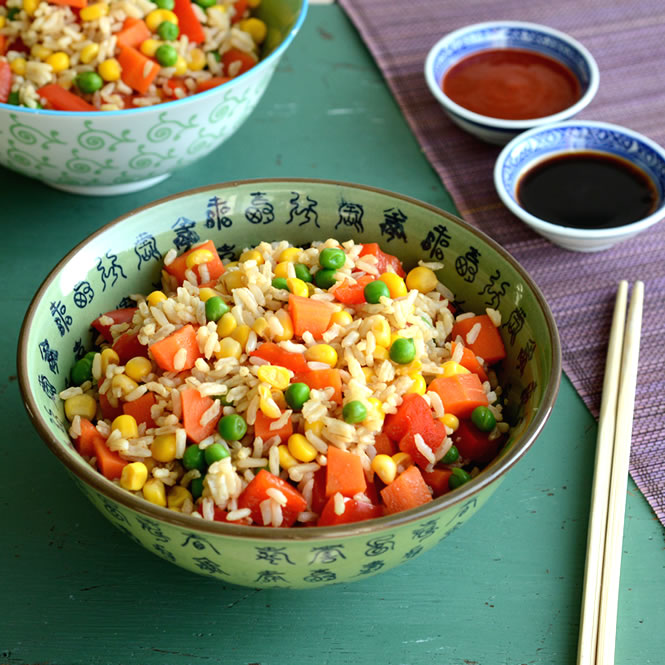 Ingredients
---
1/2 - 1 Tsp
Garlic, crushed
1/2 - 1 Tsp
Ginger, grated
6 Cups
Mixed chopped vegetables
1 Tbsp
Soy sauce (optional)
Directions
---
1 Place the water in a wok or large non-stick frying pan. Add the garlic and ginger and heat until water boils. Add the vegetables and cook, stirring frequently, until vegetables are crisp tender. Stir in the rice and soy sauce. Cook until heated through, about 2 minutes.
Hint: Use a variety of vegetables for color and flavor. Some examples are: carrots, broccoli, red peppers, green onions, celery, snow peas, bok choy, etc. Cut them into uniform sizes so they all cook in about the same length of time.
Print Recipe
Print With Images
Print Without Images
Learn why the nutrition behind our recipes is so important with the
12-Day McDougall Program
. Do you have questions about whether a change in diet can help your ailment? Learn more about our
consultations
.