Winter Grains Soup
By Mary McDougall
Serves: 8-10
Prep Time: 30 min
Cook Time: 60 min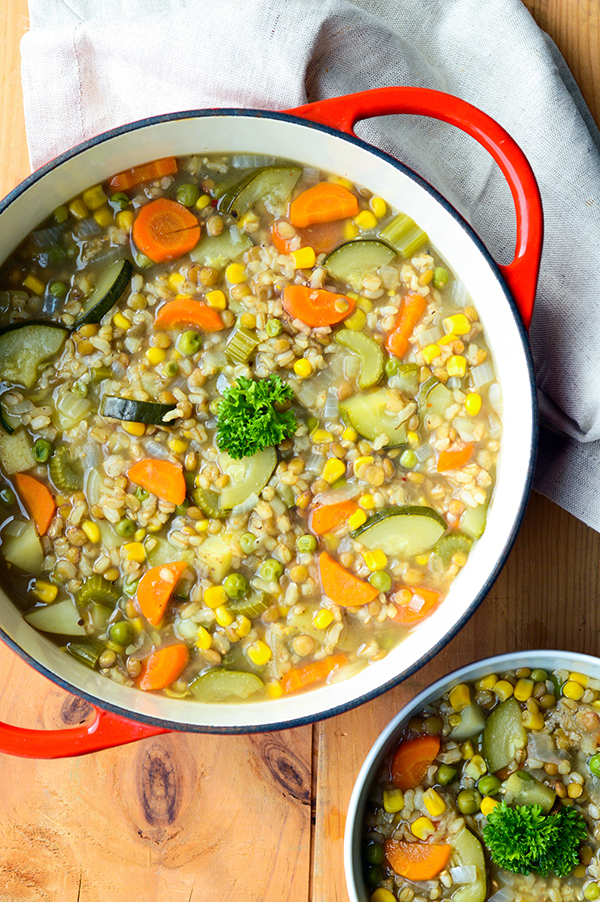 Ingredients
---
1/2 Cup
Whole wheat berries
2/3 Cup
Dry brown lentils
1 1/2 Cups
Onion, chopped
Assorted chopped vegetables (see hints below)
1 Tbsp
Soy sauce (optional)
1 Cup
Frozen corn kernels
Directions
---
1 Place the water in a large soup pot. Add wheat berries, lentils, brown rice, barley, parsley and spices. Bring to a boil and cook over medium heat for 60 minutes. Add the fresh chopped vegetables, cook 20 minutes. Then add the frozen vegetables and cook an additional 10 minutes.
Hint: You can use which ever additional vegetables you like, such as mushroom or broccoli florets. If you'd like a meat substitute choose a favorite such as extra firm tofu.
Print Recipe
Print With Images
Print Without Images
Learn why the nutrition behind our recipes is so important with the
12-Day McDougall Program
. Do you have questions about whether a change in diet can help your ailment? Learn more about our
consultations
.