Vegetable Sweet Potato Chowder
By Mary McDougall
From the McDougall Program for Maximum Weight Loss.
Serves: 6
Prep Time: 20 min
Cook Time: 50 min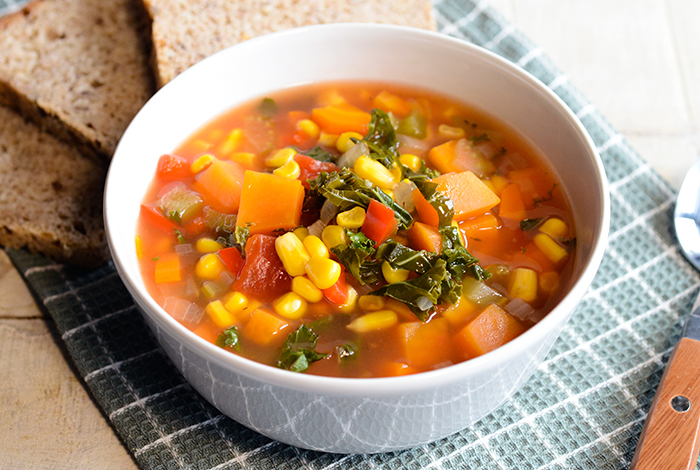 Ingredients
---
3 Cups
Frozen corn kernels
1/2 Cup
Sweet potato, diced
1/4 Cup
Green bell pepper, diced
1/4 Cup
Red bell pepper, diced
1 1/2 Quarts
Vegetable stock OR water
1 Tbsp
Soy sauce (optional)
1/4 Tsp
Freshly ground black pepper
1/4 cup cornstarch mixed in 3/4 cup cold water
1 Cup
Fresh kale, chopped
Directions
---
Place the vegetables and stock or water in a large soup pot. Add the soy sauce and other seasonings. Bring to a boil, reduce the heat, cover, and simmer for about 45 minutes. Add the cornstarch mixture, stirring. Add the kale, stir, and cook another 5 minutes.
Print Recipe
Print With Images
Print Without Images
Learn why the nutrition behind our recipes is so important with the
12-Day McDougall Program
. Do you have questions about whether a change in diet can help your ailment? Learn more about our
consultations
.