Three Bean Chili
Serves: 6-8
Prep Time: 20 min
Cook Time: 45 min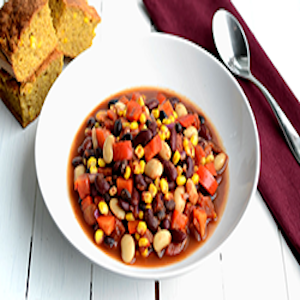 Ingredients
---
1
Yellow bell pepper, chopped
1
Red bell pepper, chopped
2-3 Cloves
Garlic, minced
15 Ounce Can
Chopped tomatoes
1 1/2 Cups
Frozen corn kernels, drained and rinsed
15 Ounce Can
Kidney beans, drained and rinsed
15 Ounce Can
Black beans, drained and rinsed
15 Ounce Can
Pinto beans, drained and rinsed
Directions
---
1 Place the water in a large pot and add the onion, bell peppers and garlic. Cook, stirring occasionally until vegetables soften slightly, about 5 minutes. Add the seasonings and mix in well. Add remaining ingredients, stir well to mix, bring to a boil, reduce heat, cover and cook for about 40 minutes.
Hint: Serve over brown rice, rolled up in a burrito shell, or in a shallow bowl with cornbread on the side. Serve with tofu sour cream, if desired. Sprinkle with some chopped fresh cilantro or parsley. If the chili gets too thick while cooking, add a bit of water to the pot to thin it out before serving. Choose whatever color of bell peppers that you prefer, the more color variety, the prettier the dish. The same is true for the beans, choose whichever color you prefer.
Print Recipe
Print With Images
Print Without Images
Learn why the nutrition behind our recipes is so important with the
12-Day McDougall Program
. Do you have questions about whether a change in diet can help your ailment? Learn more about our
consultations
.