Roasted Vegetable Salad with Creamy Dill Dressing
By Cathy Fisher
This colorful salad features roasted and raw vegetables, beans, and a creamy dressing made with fresh dill, green onions and tofu. This salad is great for parties and potlucks.
Serves: 6
Prep Time: 20 min
Cook Time: 50 min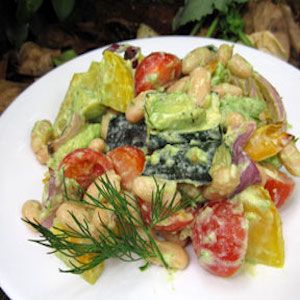 Ingredients
---
6
Small golden beets, washed, with skins on
1
Small-medium red onion, diced
1
Yellow bell pepper, diced
1 Cup
Cherry tomatoes cut in half
1 Can
Salt-free Cannellini beans
Directions
---
1 Dressing: Combine the tofu, lemon juice, non-dairy milk, garlic powder, and avocado in a blender until smooth. Add in the chopped green onion and dill and blend for just a couple of seconds more (so little green pieces of dill and onion are still visible). Set aside. You can also make this ahead of time (or the night before) so that the flavors blend more thoroughly.
2 Roasting the vegetables: Preheat your oven to 375. Place the whole beets on a non-stick baking pan (with sides) and roast uncovered for 30 minutes. While the beets are roasting, dice the onion, zucchini, and bell pepper. Remove the pan, turn the beets over, and add the diced vegetables to the pan and roast everything for an additional 15-20 minutes, or until the diced vegetables start to brown slightly at their tips, and a knife slides into the beets easily. While the vegetables are finishing roasting, place the tomatoes, avocado and beans into a large mixing bowl. Cool the beets a little before peeling and dicing them.
3 Assembling the salad: Add the roasted vegetables to the bowl of tomatoes, avocado and beans, and toss with about half the dressing (add more dressing to your taste). Serve warm or cold.
Notes: You can use red beets, but they will color your salad red. If you use larger beets, they will need longer cooking time. This salad may also be made with all the same salad ingredients, but raw (grate the peeled beets and zucchini, and dice the onion and bell pepper). Use any leftover dressing on green salads or baked potatoes, or as a vegetable dip.
Print Recipe
Print With Images
Print Without Images
Learn why the nutrition behind our recipes is so important with the
12-Day McDougall Program
. Do you have questions about whether a change in diet can help your ailment? Learn more about our
consultations
.