Farmhouse Bread Stew
The addition of bread to the stew during the last 5 minutes of cooking really makes this dish a special treat. This is a very hearty stew, best served in a wide, deep bowl.
Serves: 4
Prep Time: 15 min
Cook Time: 60 min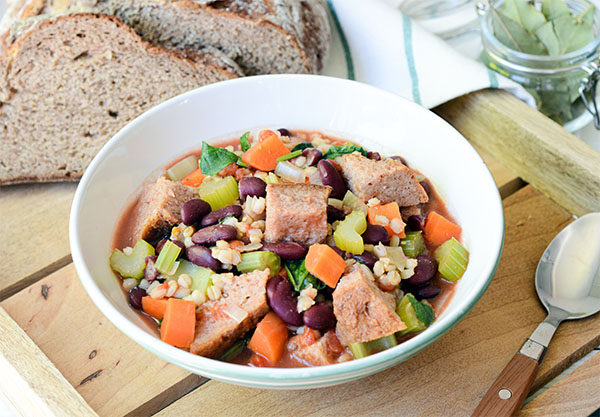 Ingredients
---
15-ounce Can
Chopped tomatoes
2 15-ounce Cans
Red beans, drained and rinsed
3 Cups
Fresh spinach, chopped
2 Cups
Hearty bread, chopped
Freshly ground black pepper to taste
Directions
---
1 Place a small amount of the broth in a large soup pot. Add the onion, garlic, celery and carrot. Cook, stirring occasionally, for about 5 minutes, until vegetable soften slightly. Add the remaining broth, canned tomatoes, beans, barley, bay leaf, oregano and ground pepper. Bring to a boil, reduce heat, cover and cook for about 55 minutes. Add the spinach, cook for an additional 5 minutes, then add the bread and cook for about 5 minutes longer. Serve at once.
Hints: If you prepare this stew ahead of time, do not add the bread until just before serving. A hearty Artisan type bread that is about 2 days old works very well in this recipe. Softer breads do not hold their shape well in this stew. I used small red beans in this recipe, but this could also be made with other kinds of beans, such as white or black.
Print Recipe
Print With Images
Print Without Images
Learn why the nutrition behind our recipes is so important with the
12-Day McDougall Program
. Do you have questions about whether a change in diet can help your ailment? Learn more about our
consultations
.