Chunky Vegetable Salad
By Mary McDougall
From The McDougall Program for Maximum Weight Loss.
Serves: 4
Prep Time: 30 min
Cook Time: 0 min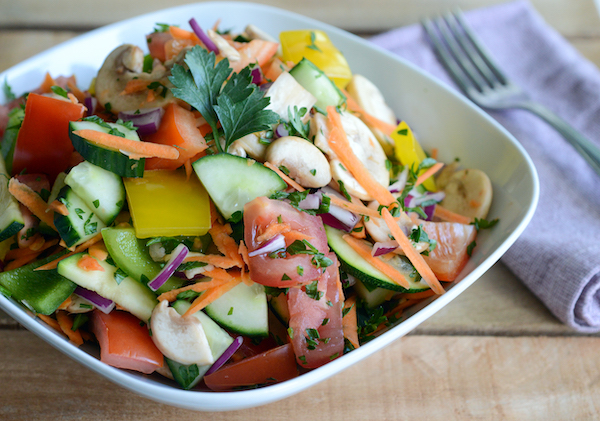 Ingredients
---
1 Cup
Fresh tomato, chopped
1 Cup
Yellow crookneck squash, chopped
1/2 Cup
Green bell pepper, chopped
1/2 Cup
Red bell pepper, chopped
1/2 Cup
Cucumber, chopped
1/4 Cup
Red onion, chopped
1/4 Cup
Fresh parsley, finely chopped
1 Tsp
Dill weed, finely chopped
1/2 Cup
Oil-free Italian dressing or another of your choice
Directions
---
Combine all the ingredients in a large container with a cover. Shake well to mix. Refrigerate for at least 2 hours to allow the flavors to blend; shake several times while chilling. This salad will keep for several days in the refrigerator.
Print Recipe
Print With Images
Print Without Images
Learn why the nutrition behind our recipes is so important with the
12-Day McDougall Program
. Do you have questions about whether a change in diet can help your ailment? Learn more about our
consultations
.