Chocolate Brownies
These brownies are a rich treat best reserved for special occasions. We especially like them cold from the fridge, so we sometimes make them ahead, cut and arrange them on a platter, cover tightly with plastic wrap, and refrigerate for a day before serving them. Leftovers can be refrigerated for up to 3 days, but I doubt they'll be around that long.
Serves: 9
Prep Time: 15 min
Cook Time: 30 min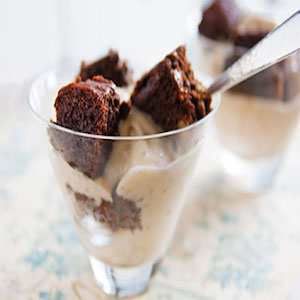 Ingredients
---
2 Tbsp
Ener-G Egg Replacer
1 Cup
Unbleached all purpose flour
2/3 Cup
Fat-free cocoa powder
1/4 Cup
Chopped cashews or walnuts (optional)
1 Tsp
Pure vanilla extract
Directions
---
1 Preheat oven to 350 degrees F.
2 In a small bowl, whisk the Egg Replacer with 1/2 cup warm water until frothy. Set aside.
3 In a medium bowl, whisk together the flour, cocoa, baking powder, baking soda, and salt. Stir in the nuts, if using. Set aside.
4 In a small bowl, whisk together the prune puree, sugar, and vanilla. Stir in the Egg Replacer. Stir this mixture into the flour mixture just until the ingredients are combined.
5 Spread the batter evenly into a nonstick or silicone 8″x8″ baking pan, smoothing the top. Bake until a wooden pick inserted in the center comes out clean, about 30 minutes.
6 Set the pan on a rack until cool, about 30 minutes. Cut the brownies into three equal strips in one direction, then three in the other, to make nine brownies. (If using a silicone pan, flex and invert the pan to release the brownies on to a platter before cutting them.)
Print Recipe
Print With Images
Print Without Images
Learn why the nutrition behind our recipes is so important with the
12-Day McDougall Program
. Do you have questions about whether a change in diet can help your ailment? Learn more about our
consultations
.