Jeanne G. Lost Weight, Lowered her Cholesterol and Stabilized her Blood Pressure
Updated September 28, 2022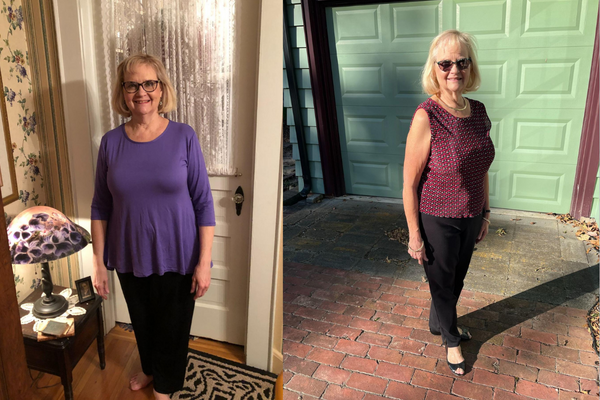 I am 69 years old. I developed an interest in the plant-based lifestyle in 2009 and have been reading and studying the plant-based lifestyle since then. 
The first book I read was The China Study by T. Colin Campbell. I have read other books by Dr. Campbell as well as Prevent and Reverse Heart Disease by Caldwell Esselstyn. Reading these books led me to Dr. McDougall and his starch-based program. After reading Dr. McDougall's books I found myself totally intrigued by how I could change my lifestyle. The Starch Solution brought me to a point of conviction and commitment which resulted in me registering for the 12-Day McDougall Program. I started the McDougall plan on 6-14-21. At that time, I weighed 160 pounds. I have lost 23 pounds so far and my cholesterol has gone from 240 to 173. My blood pressure would fluctuate before I started the plan and has since stabilized to normal of below 120/80. My energy level has gone up and I continue to walk 3 miles 5 to 6 days a week. I'm dedicated to this starch- based lifestyle and committed to sharing the plan with others that are interested in changing their life through eating a starch- based diet. I found the program is much easier to follow than I anticipated and find myself not missing the foods I used to eat. I weigh less now than I did when my husband and I got married in 1999. My husband, who is an extremely picky eater, is slowly beginning to follow some of the basics of the program and has shared the benefits of this program with many of our friends and others who have asked him about the changes they see in me. 
I do not have the words to properly thank Dr. McDougall for his dedication, research, and determination to change peoples lives. My personal thank you will come in the form of my dedication, commitment, and testimony of following this plan for the rest of my life. I would like to thank Mary for her wonderful recipes, Heather for her untiring assistance and guidance and Stacy (my Support Specialist) for her support and encouragement. Though I don't know everyone on the McDougall staff, I send them all a heartfelt thank you for their never- ending work and dedication. 
Print Article
Print With Images
Print Without Images