Lemon Rice Soup
By Tiffany Hobson
Serves: 6-8
Prep Time: 15 min
Cook Time: 45 min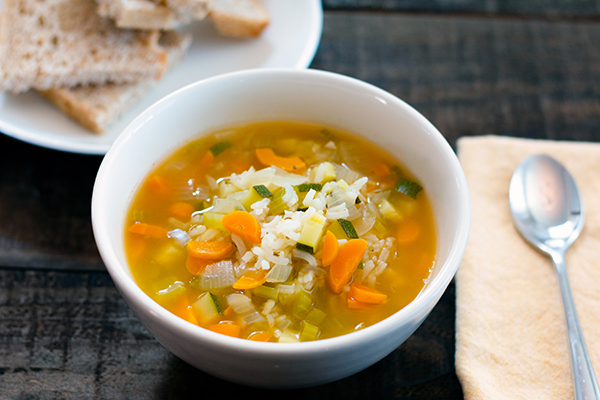 Ingredients
---
1
Large yellow onion, diced
3
Medium carrots, halved lengthwise then diced
4 Stalks
Celery, halved lengthwise then diced
1 Tsp
Dried oregano leaves
Several twists of freshly cracked black pepper
32 Ounces
Vegetable broth
1/2 Cup
Jasmine or any short-grain rice (see note below)
1/4 Cup
Fresh lemon juice
Directions
---
1 In a non-stick 6-quart pot, dry saute the onion, garlic, carrots and celery until vegetables become translucent over medium heat (about 5-10 minutes), stirring occasionally. Add the oregano and several twists of freshly cracked black pepper and stir. Add the vegetable broth and water and bring to a boil with the lid on. Stir in the zucchini, rice and bay leaf. Reduce heat to simmer and cook, covered, for 20 minutes or until the rice has cooked thoroughly. Add the fresh lemon juice and stir.
Note: Traditionally, Greeks would use either Glace (a medium grain rice that works well in soups) or Kastano (a brown rice). The Jasmine rice makes the soup lighter than another short-grain brown rice; however, you may you any short-grain rice for this recipe. You may increase the rice to 1 cup for a heartier soup. If desired, add salt and pepper to taste.
Print Recipe
Print With Images
Print Without Images
Learn why the nutrition behind our recipes is so important with the
12-Day McDougall Program
. Do you have questions about whether a change in diet can help your ailment? Learn more about our
consultations
.