Until today, I hadn't been to a Wendy's in years. But I'd seen reports here on the forums of a decent baked potato and a decent side salad (with conflicting accounts of what condiments are available, including conflicting stories about whether or not they have a fat free dressing -- which doesn't interest me much anyway as they tend to be pure sugar.)
So, this morning, after a medical appointment in a distant big town, I found myself hungry -- so I thought, "Why not go to Wendy's, get these items, scope out the condiments, and see whether it's a place I can get a satisfying (or at least adequate) meal?"
So I did.
Went into the Wendy's, and ordered from a poor girl who is clearly a casualty of the ever-increasing corporate squeeze on the laboring classes -- she was trying to do what in my youth would have been considered two jobs, manning the counter while simultaneously taking drive-through orders over a headset. Ain't technology that enables productivity gain wonderful? Sadly, she wasn't quite up to the necessary multi-tasking -- and I doubt very much that the job pays enough to retain anybody who
does
have that much ability to multi-task.
But, I digress.
Ordered a "plain baked potato" notwithstanding that no such items were visible on the menu board (which only showed "cheesy" and "bacon" and a few other such "flavors"). She did not balk, though. Then I ordered a side salad and she asked me what flavor of dressing. Since I didn't see them listed anywhere, I asked her for my options. (This was purely for entertainment value; I was expecting to eat the salad dry.) She rattled off about six dressings very fast, none of which sounded promising. Just for giggles, I asked her "are any of these fat-free?" She replied very earnestly "Just the light ranch and the Italian vinaigrette." I laughed internally at this, not believing it for a moment, and then asked her for the vinaigrette.
My food was duly handed over and I repaired to the condiments bar for fork, knife, napkin, salt packet, black pepper packet, and a few of those little paper tubs of ultrasweet catsup. Don't get me wrong: I love catsup. But I have gotten very sensitive to the taste of added sweeteners, and most commercial catsup has a ton. This was no exception. However, it looked to be my only option. Other fast food places around here sometimes have random other condiment packets that might have been useful on a baked potato -- pickle relish, lemon juice, salsa, taco sauce, it depends where you go. But none of that at this Wendy's -- just bulk catsup, salt, pepper, and various sweeteners.
So here is my meal: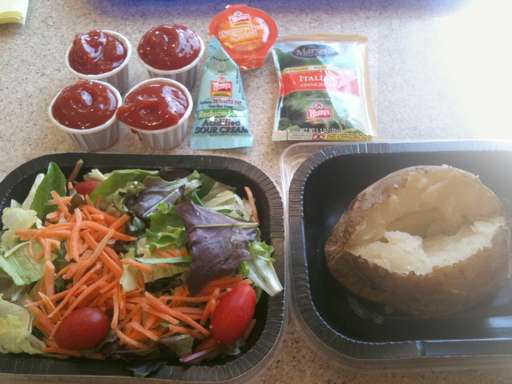 Of course I did not eat the three terrifyingly over-processed fake food-like packets that came with my meal. They are, from left to right:
[1]

Reduced-fat Acidified Sour Cream

Lest you think it's actually sour cream (due to the name) they hasten to explain "Contains 25% less fat than sour cream." Still, 30 of 40 calories are from fat.

[2]

Buttery-Best Spread

What is this? I don't even. Subtitle: "50% vegetable oil spread." First three listed ingredients, of many: "Liquid and partially hydrogenated soy oil, water, soy oil." So, I guess, a mixture of margarine and water.

Shudder...



[3]

Italian Vinaigrette

Subtitle: "All Natural. No Preservatives." First four ingredients, of many: "Water, soy oil, vinegar, sugar." Obviously not a fat-free dressing despite the assurance of the overworked counter girl. In fact, 50 of 70 calories from fat.

And now, as the Bible radio stations like to say, for the
good
news.
The potato itself was surprisingly tasty! About medium sized and baked very very thoroughly. Arguably overcooked in fact, but the result was a sweet creamy very pleasant texture. I did use two of the four syrupy catsup cups shown in the picture, along with a packet of black pepper. (The other two catsups were surplus to my needs.)
The salad was ... meh. Of course there's only so much fun to be had from a dry salad. I sprinkled about a quarter of a salt packet over it to help cut the bitterness of the greens. As you can see, it was a mixture of 2 little grape tomatoes, iceberg lettuce, shredded carrot, and assorted salad greens, some of which were fairly tangy/radishy in flavor. A few of the greens were tired and wilted and turning brown, so I had to pluck out maybe three stalks and not eat those. But the rest of the salad was, if not fresh-tasting, at least up to the basic "bagged salad" standard that you'd find in any of the little country diners around here, and ahead of most of those due to not being just iceberg and carrot.
Bottom line:
without anything to put on it, not worth the $1.49 I paid them for it.
However, the $1.29 potato was very good and satisfying. If I ever go back, I'll just get two of those, eat them with catsup, and take the nutritional hit from the little jolt of corn syrup that is lurking in the catsup.
For research, on my way out of the restaurant I stopped and looked at the nutritional info board, scanning down it for fat-free items. In doing so, I discovered that there
actually is
a fat-free Wendy's salad dressing (French, presumably one of those hideous red corn-syrup concoctions that tastes like catsup with extra sugar) but it was asterisked with a "select locations only" notation and was not among the options that had been offered to me.
Thus concludes the tale of how Wendy and I had lunch together.