Does anyone here have any experience in growing vegetables from a raised bed kit?
I was walking my dogs last weekend and my husband and I passed by a house that was having a huge yard sale and I couldn't believe when I saw that the lady was selling an 8x8 raised vegetable garden kit for $80 so I asked her to please hold it for me and I came back later to pick it up. There are 8 huge boxes, all brand new so we're going to build it this weekend. I found out the source where it came from when I was reading the instructions and here's a picture of it: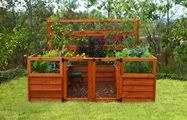 I won't be putting it in my garden but rather next to my house where I have my fruit trees so it won't be standing in the grass or soil area but rather on concrete. It'll have sunlight all day long and it'll be close to my kitchen which will make it easier to care for.
My concern is that although I have been gardening for ages now, I have planted and cared for mostly fruit trees and some vegetables in planters (I have a huge variety of tomatoes, herbs, cucumber and eggplant). I have never really planted anything in a raised bed. (I was planning on starting it this year on a piece of land behind my house but it'll be a huge project since we'll have to level the land to plant the veggies (I have an older post with a picture of it))
I was wondering if I should use the same soil I have in my planters. I use about 60% organic soil mix and 40% home grown compost (that mixture keeps my soil PH at about 6.5 almost all year long). I feed my plants compost tea only during summer and about 1x per week and every fall I replace/add about 20% of the top layer with new and fresh compost. Also do you think I can add worms to the soil?
As you can imagine this will be a whole new territory for me. Now I can "really" plant all sorts of vegetables but I have no idea what. I'm a huge fan of growing from seed and only organic heirloom so I already ordered a huge variety of both perennials and annual seeds of the kinds of vegetables I would like to grow and I have my nursery all ready too but I know I'm going to have sooooo many questions!
Any tips and info you guys can give will be greatly appreciated